OneMarketData launches data and analytics platform for time series analysis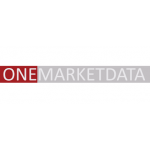 OneMarketData launches data and analytics platform for time series analysis
OneMarketData, LLC, a leader in tick data management and analytics, today announced the launch of OneTickCLOUD™, the industry's most advanced data and analytics platform for time series analysis, powered by OneTick with global multi-asset class tick data from Morningstar.
Financial institutions and market participants all share a common need to collect, cleanse, and normalize exchange and over-the-counter market data to support quantitative research, algo development, strategy back testing, transaction cost analysis, market surveillance, technical studies and charting applications. Each must manage the connectivity, feed changes and infrastructure necessary to collect an increasing amount of data from an expanding set of sources. After collection, the data must be readily stored on a platform that allows for on-demand aggregation, filtering and corporate action adjustments with high availability and performance.
OneTickCLOUD is the industry's solution that offers on-demand access to global tick data and analytics. Deployed in a secure data center, OneTickCLOUD provides firms the ability to aggregate, normalize and analyze large volumes of data, including Morningstar global tick data, using OneMarketData's market-leading enterprise data management software, OneTick.
"We have been looking to replace our tick data application for a few years and had not been able to find a suitable alternative," says Gene Gorskie of Artorius Management LLC. "After testing OneTickCLOUD, we are able to access the same high-quality data but with dramatically less processing overhead, which improves our ability to analyze market conditions."
OneTickCLOUD offers three annual subscription tiers. The solutions range from basic historical data access to comprehensive tooling for construction of custom analytics, offering complete flexibility to meet client needs. Clients will have the option to subscribe to more than 150 markets and access Morningstar's extensive historical time series dataset (both level 1 and full depth of book), along with reference data, corporate actions, earnings and event dates.
"OneMarketData's flagship Product, OneTick, is the industry leader for providing quantitative investors with the ability to collect and analyze market data," says Leonid Frants, CEO of OneMarketData. "We see that the market continues to be challenged with the collection and management of an expanding set of market data. As such, we have launched OneTickCLOUD to enable quants, traders, researchers and compliance professionals to focus on what they do best and remove the hassles associated with data collection and management. We selected Morningstar because of its extensive tick and end-of day pricing history as well as its commitment to quality."
Free Newsletter Sign-up