BT Radianz Services Becomes Available at Verne Global Iceland Data Centre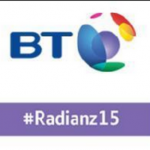 BT Radianz Services Becomes Available at Verne Global Iceland Data Centre
Verne Global, a global developer at the forefront of data center infrastructure design, today announced the availability of a range of BT Radianz connectivity and hosting services at its innovative data center in Iceland.
The move offers BT's global financial services customers more choice in the selection of predictable, low-cost, highly efficient data centers to house and connect their applications and services. It also allows BT's financial markets customers to join a growing ecosystem of participants already located in the Verne Global data center.
BT Radianz Services are designed specifically for the global financial markets. They include connectivity and hosting services between and within global trading venues. The BT Radianz Cloud platform supports the world's largest secure networked financial community offering access to thousands of applications and services from more than 400 providers.
Strategically located between key North American and European financial centres, the Verne Global data center will provide members of the Radianz Cloud community with an additional choice of secure compute location. It adds to an existing global footprint of more than 20 data centres that offer BT Radianz services.
Iceland is unique in its abundance of low cost geothermal and hydro-electric energy sources complemented with year-round free cooling. This allows Verne Global to present a compelling and sustainable solution for financial services firms looking to reduce costs and carbon emissions, particularly for power-hungry technologies such as high performance computing (HPC) and grid applications.
Stef Weegels, Director of Business Development at Verne Global commented, "We are pleased to expand our financial services capabilities with the addition of BT Radianz Services, which offer a key industry network and a range of connectivity and hosting solutions." He added, "With the right connectivity, compute and infrastructure resources in place, firms located at the Verne Global data center are able to use technology in ever more innovative, valuable and cost effective ways."
Michael Woodman, Head of Radianz, BT, commented, "Adding Verne Global's Icelandic venue to our portfolio of more than 20 global data centers provides BT customers with a new breed of connectivity and hosting opportunities where power and cost efficiencies help our customers to optimise their operations at an application level." He adds, "This agreement continues to reinforce our reputation as a creator of innovative capabilities, specifically developed for the financial services industry."
The addition of the Verne Global data center to the Radianz footprint is part of BT's 'Cloud of Clouds' portfolio strategy aimed at helping large organisations connect easily and securely to the applications and data they need, regardless of where they are hosted and where they are based.
Free Newsletter Sign-up