ABBYY Introduces New Way in Document Classification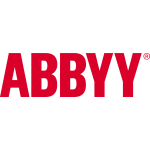 ABBYY Introduces New Way in Document Classification
Data Management
,
Market and Reference Data
ABBYY®, a leading provider of technologies and solutions to action information today announced theavailability of ABBYY Smart Classifier on the European market. The new product enables businesses to leverage and act on complex,unstructured information by delivering highly accurate document classification. Based on Compreno®, ABBYY's innovative natural languageprocessing (NLP) technology, Smart Classifier quickly organises large repositories of documents according to both statistic and semanticanalysis of content. Once classified, information is ready for search and retrieval, automated routing, intelligent data extraction and decision-making.
Allocating relevant information to the responsible entity at the right time is key in today's fast-paced world. However, the vast majority ofincoming data is unstructured, which hinders businesses from automated, machine-based access and processing – and from using it to theiradvantage.
"ABBYY Smart Classifier empowers companies to derive value from the data stream that constantly pours into their business," says JuppStoepetie, CEO of ABBYY Europe. "Documents are automatically assigned to predefined categories on the basis of their content. Thislanguage-based insight into information creates new opportunities to optimise critical business processes – including informationgovernance, data migration, content management and client support."
ABBYY Smart Classifier is a scalable server-based document classification module for categorising unstructured information based onstatistics
Free Newsletter Sign-up