Appian Secures Presence on G-Cloud 9 Framework to Strengthen UK Government Digital Transformation Programs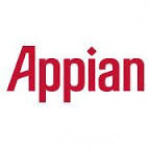 Appian Secures Presence on G-Cloud 9 Framework to Strengthen UK Government Digital Transformation Programs
Appian today announced that its low-code platform for digital transformation is available on the G-Cloud 9 framework. G-Cloud 9 is a digital marketplace that enables the UK public sector to find people and technology for projects across the government.
Appian's application platform as a service (aPaaS) enables organizations to create unique, mission-critical applications that automate business processes, improve the customer journey, optimize operations, and more. In order to remain competitive, organizations must create agile processes and methods that allow for rapid change and the ability to adjust to customer needs. Appian's low-code approach empowers organizations to do these things with its unique technology, while lowering costs and streamlining business operations.
"At Appian, we understand the importance of moving into the digital realm and the competitive advantage it brings organizations across all industries," said Paul Maguire, VP of Europe, Appian. "Having been a part of the G-Cloud Framework for several years, we have a strong record of customer satisfaction across the public sector and look forward to continuing our efforts in G-Cloud 9. We are committed to providing a fast, easy, powerful and secure platform that can work seamlessly in the cloud, whether private or public."
The G-Cloud Framework is made possible by the Crown Commercial Service (CCS) which is focused on providing commercial services to the public sector and saving money for the taxpayer. They are able to do this by combining policy, offering advice, pre-vetting quality offerings and allowing organizations to conduct direct buying.
Appian Cloud is available in more than 20 availability zones in eight countries. Appian continues to expand its cloud presence, partnering with AWS and adding several additional regions in 2017, with new data centers in Canada, France and the U.K., to name a few. By expanding regional availability, Appian is making it easier than ever for global enterprises to make the move to cloud architectures for their mission-critical applications.
Appian Cloud is deployed across a wide variety of industries including public sector, financial services, insurance, healthcare, life sciences, and others. Appian public sector Cloud customers includes large complex organisations such as the United States Department of Agriculture, Australia's Queensland Government and the Medicines & Healthcare Products Regulatory Agency in the UK, amongst many others around the world.
In addressing the security landscape and concerns around the cloud environment, Appian Cloud has an extensive collection of security accreditations, making it a highly trusted platform for rapid application development. Appian is accredited for HIPAA, SOC 2 and SOC 3, The PCI Data Security Standard, G-Cloud 9 Framework and more. Appian Cloud also offers reliability with 24×7 system monitoring, and a 99.95% uptime SLA.
Free Newsletter Sign-up