Maersk and IBM Unveil First Industry-Wide Cross-Border Supply Chain Solution on Blockchain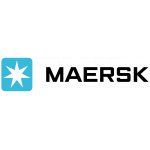 Maersk and IBM Unveil First Industry-Wide Cross-Border Supply Chain Solution on Blockchain
IBM and Maersk have announced a new partnership to use blockchain technology to transform the global, cross-border supply chain.
The blockchain solution based on the Hyperledger Fabric and built by IBM and Maersk, the global leader in transport and logistics, will be made available to the shipping and logistics industry. The solution will help manage and track the paper trail of tens of millions of shipping containers across the world by digitizing the supply chain process from end-to-end to enhance transparency and the highly secure sharing of information among trading partners. When adopted at scale, the solution has the potential to save the industry billions of dollars.
The ocean shipping industry each year carries Ninety percent of goods in global trade. IBM and Maersk intend to work with a network of shippers, freight forwarders, ocean carriers, ports and customs authorities to build the new global trade digitization solution, which is expected to go into production later this year. It has the potential to vastly reduce the cost and complexity of trading by using blockchain technology to establish transparency among parties. The solution is designed to help reduce fraud and errors, reduce the time products spend in the transit and shipping process, improve inventory management and ultimately reduce waste and cost. Maersk found in 2014 that just a simple shipment of refrigerated goods from East Africa to Europe could go through nearly 30 people and organizations, including more than 200 different interactions and communications among them.
In order to prove the potential value of a commercial trade digitization solution, IBM and Maersk have worked with a number of trading partners, government authorities, and logistics companies. For example, goods from Schneider Electric were transported on a Maersk Line container vessel from the Port of Rotterdam to the Port of Newark in a pilot with the Customs Administration of the Netherlands under an EU research project. The U.S. Department of Homeland Security Science and Technology Directorate, and U.S. Customs and Border Protection are also participating in this pilot. Damco, Maersk's supply chain solutions company, supported origin management activities of the shipment while utilizing the solution. The international shipment of flowers to Royal Flora Holland from Kenya, Mandarin oranges from California, and pineapples from Colombia were also used to validate the solution for shipments coming into the Port of Rotterdam.
Free Newsletter Sign-up