Blockchain as Viewed by IBM: Why We Need Hyperledger Project and When World Will Shift to New Technology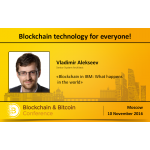 Blockchain as Viewed by IBM: Why We Need Hyperledger Project and When World Will Shift to New Technology
On Thursday, November 10, IT giant IBM will present its vision of blockchain development in Russia and the world. Vladimir Alekseev, leading client technical architect, will offer a review of the most inspiring projects, based on this technology.
IBM is one of first companies that have got to the top of the tree of developments based on blockchain, a decentralized block chain, containing data transfer information. IBM analysts are sure: the next year, 15% of world banks anyhow will use blockchain services.
According to Karolina Martsantovich, leading engineer of IBM, blockchain is the technology that helps a company to determine methods of business operations, asset management and person identification on the back of the whole digitalization of the world. In the near future, b2b and b2c sector will apply blockchain just like today one uses http, Karolina Martsantovich is assured.
The company has implemented thousands of code lines into the smart contract system called Hyperledger by Linux Foundation. Hyperledger is designed to become an alternative of Bitcoin and Ethereum and, consequently, an encyclopedia of developers. Anyway, it is such a way that its participants, including Intel, CISCO, SWIFT и J.P.Morgan, call the project. Their collaborative developments are optimized for the banking system, manufacture, insurance sector, and the Internet of things.
You will be able to communicate with IBM representatives and to learn more about HyperLedger project on November 10 at Moscow Digital October center. Details and registration on the website: Blockchain & Bitcoin Conference Russia.
Free Newsletter Sign-up