Blockchain-based Trade Finance Outfit TradeIX Names Richard Tynan MD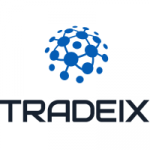 Blockchain-based Trade Finance Outfit TradeIX Names Richard Tynan MD
TradeIX Limited, the first open and agnostic blockchain platform focusing on trade finance, appointed Richard Tynan as Managing Director.
TradeIX is rewiring the global trade the finance ecosystem to radically simplify how corporates, financial institutions and B2B networks manage and finance global supply chains.
The platform provides financial institutions, businesses, lenders and technology providers with a smarter, more connected, and more secure platform for facilitating the movement of goods, assets, and credit around the world in support of global trade. TradeIX is an open platform for global trade finance powered by distributed ledger technology.
Richard Tynan has an impressive track record in financial services with over twenty-five years of experience in both fixed Income and capital markets originating, structuring and deal execution for major financial institutions.
Prior to co-founding TradeIX, Richard Tynan established PrimeRevenue Capital Management, a London based company that successfully raised significant institutional balance sheet, and focused on origination and distribution of trade assets. Previous roles in financial services include Head Debt and Equity Syndication at RBS, Head of Corporate Debt Syndication at Morgan Stanley, and running private placements at Lehman Brothers.
"Richard provides immense value and expertise to our bank clients, alternative funders and corporate clients," said Rob Barnes, CEO of TradeIX. "At this moment, there is an incredible opportunity for TradeIX and its network of clients to rewire the trade finance market. Richard was an early stage investor and co-founder of TradeIX, and as part of our leadership team he will help us further increase the number of companies connected through our platform to generate substantial value for all participants."
"There is a void for open technologies and platforms that can be adopted on a widespread basis within the trade finance ecosystem. The deep subject matter expertise of the TradeIX team and the collaborative solution of the TIX Platform is driving rapid customer adoption, and I am very much looking forward to taking this solution to additional corporates and financial institutions," said Richard Tynan, Managing Director TradeIX.
Free Newsletter Sign-up