RBS, Lloyds and Mortgage Advice Bureau Awarded for Training Programmes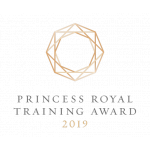 RBS, Lloyds and Mortgage Advice Bureau Awarded for Training Programmes
44 UK organisations including IBM, The Co-Op and Lloyds Banking Group, are celebrating after being commended with a Princess Royal Training Award for their workplace learning at a ceremony held at St James's Palace in London last night.
Presented by HRH Princess Anne and delivered by the City and Guilds Group, the Princess Royal Training Awards, now in their fourth year, celebrate exceptional training and development programmes across the country.
Ranging from apprenticeship schemes and interactive workshops to mental health and employee wellbeing programmes, the businesses recognised this year displayed an exceptional dedication into training, upskilling and reskilling their workforce. Crucially, all were able to prove that the training had a substantial impact on their organisation and its people.
Included in the list of recipients are leading public and private businesses of various sizes across a wide range of sectors, including banking, non-profit, childcare, security and manufacturing. Each recipient has been recognised for their innovative vision and dedication to addressing the specific challenges their industries face with highly effective training schemes. These include:
Scotland's leading bank RBS was commended with two awards. One for establishing Nextgen, a bank wide talent programme to develop the skills needed to create stronger future leaders for the company. The second for its Sales Excellence programme, the first consistent bank-wide sales programme for every employee.
Against a backdrop of political and economic instability, Lloyds Banking Group bank recognised the need to develop the resilience of its leaders who in turn could develop the resilience of their teams. The Resilient Leader one-day training programme was launched focusing on a top-down approach and over 5000 employees have been trained. Evaluation has shown a 32% increase in personal resilience levels following the training.
Commenting on this year's recipients and ceremony Chris Jones, Chief Executive of the City and Guilds Group, said: "The Princess Royal Training Awards are a highlight of the year, as we come together to celebrate the outstanding work of businesses around the country who put learning and development firmly at the top of their agenda. The remarkable employers we recognised last night demonstrate the power that comes from investing in people and training as a vehicle to strengthen organisations and open up opportunities for people.
"We hope that business leaders everywhere will be inspired by the efforts of this year's PRTA recipients and go the extra mile to ensure their workforce is fit for the future."
Previous winners have seen significant benefits after being awarded a Princess Royal Training Award. According to a 2019 survey of previous recipients, the awards added significant value to their organisation:
74% of participants said it helped with staff retention
50% said it led to an increased investment into future training programmes training
70% said they value their training / L&D programmes being benchmarked against organisations across multiple industries
For the full list of recipients and their award-winning training, please see the link here.
Free Newsletter Sign-up