Kapilendo chooses finleap connect and solarisBank for the further expansion of its services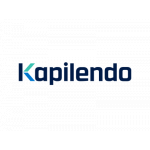 Kapilendo chooses finleap connect and solarisBank for the further expansion of its services
Since November 2019, Kapilendo, the banking platform for small and medium-sized businesses, has been using the technology of finleap connect, the Software-as-a-Service (SaaS) unit of Europe's leading Fintech ecosystem, as well as the banking services of solarisBank, the first Banking-as-a-Service platform with a full banking license. As a result of the cooperation of these three companies, Kapilendo will be offering its customers account and debit cards, multibanking, as well as an analysis of account and transaction data – the range of banking products and services will hence be expanded significantly.
"We are delighted to have found two strong partners in finleap connect and solarisBank for the expansion of our banking services. Being able to offer our customers such a broad range of additional solutions was crucial to us. In addition to providing business accounts tailored to the everyday needs of small and medium-sized businesses, we will now be able to offer a systematic analysis of account and transaction data and to generate valuable insights and recommendations for our customers. Kapilendo's 360°FinanzCockpit will bundle all services into a financial home for SMEs", states Christopher Grätz, Co-Founder and CEO at Kapilendo AG.
With its acquisition of wevest Digital in September 2019,
Kapilendo
already heralded the transition from a digital corporate finance provider to a modern and fully-fledged banking partner for small and medium-sized businesses – the positioning as a real banking alternative for SMEs is now being implemented.
For
finleap connect
and
solarisBank
, this new partnership exemplifies the positive synergies that arise from the finleap ecosystem: "We are delighted to have gained a customer in Kapilendo who fully exploits the advantages of the finleap portfolio. We can offer a tailor-made solution with all the desired functionalities: account and debit cards of solarisBank, aggregation of third-party bank accounts, data analysis and virtual CFO services of finleap connect", states Ramin Niroumand, Founder and CEO at finleap. Since September 2019, finleap has been operating in the units finleap assets, finleap build and finleap connect. As a SaaS provider, finleap connect acts as a one-stop-shop that comprises the entire spectrum of Fintech solutions.
Free Newsletter Sign-up