Eeach Year UK Banking Customers Receive Nearly 40,000 Tons Of Paper From Banks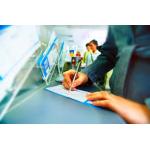 Eeach Year UK Banking Customers Receive Nearly 40,000 Tons Of Paper From Banks
UK banking customers receive almost 40,000 (39,899) tons of paper communications from their banks every year, new research has found. Digital financial services software provider Intelligent Environments has found that customers are sent more than 1.2 billion (1,276,776,000) paper communications from their bank each year, including letters and statements. If all letters were stacked up, the pile would reach the equivalent of 6,200 times the height of The Shard in London or the height of 437,500 double-decker buses stacked on top of one another. The weight of this amount of paper is also equivalent to that of 200 blue whales.
The online poll of 2,000 Brits also found that in spite of increasing adoption of digital banking, many consumers are still reliant on paper statements. Two thirds of people (65 per cent) said they have a digital bank account, yet more than three quarters (79.5 per cent) still opt in to receive additional paper statements. Two thirds (66 per cent) claim they still need them for identification purposes.
There are multiple benefits of providing digital-only statements for banks, as well as for customers. Not only would convincing customers to review all transactions online have significant environmental benefits, but it could also save UK banks £243m on stationery alone.
In light of the research findings, Intelligent Environments is calling on banks to step up their communications efforts to improve customer awareness of the benefits of going paperless. Additionally, recognising that there are occasions where physical documentation might be required for identification purposes, Intelligent Environments believes all banks need to offer instant download access to print statements if required.
David Webber, managing director of Intelligent Environments, says: "The amount of paper UK banking customers receive each year is highly concerning, and it is clear there is a pressing problem to address. Banks need to raise awareness of their alternatives to paper statements and the benefits these provide to their customers, giving them credible reasons to make the switch from paper to online. Furthermore, there is no reason why online statements shouldn't be exact replicas of the paper statements customers previously received in the post, available for customers to download, print and use for identification whenever and wherever they need them.
"Paperless banking is a win-win solution for everyone. It creates lower costs for banks, less junk mail for customers, while considerably reducing the environmental impact of personal banking. Incentives should also be considered for those that decide to make the shift to paperless. Our research shows that 37 per cent of consumers would be more likely to use digital banking or go paperless if their bank offered a financial incentive.
"We all need to do everything in our power to reduce the amount of paper the banking industry currently wastes. UK banks need to inspire customers to change their habits by raising awareness of going paperless, as well as the associated benefits.
Free Newsletter Sign-up