Citi Releases Ability to Dispute a Charge Within Mobile App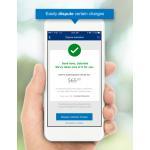 Citi Releases Ability to Dispute a Charge Within Mobile App
Citi credit cardmembers have the ability to quickly and easily dispute certain posted charges directly within the Citi Mobile App for iPhone in the U.S. The new feature is designed to provide increased peace of mind to consumers and infuse simplicity and transparency within an often emotional process.
Citi is the only major U.S. credit card issuer to provide this feature on mobile. Credit cardmembers can submit a merchant dispute on posted charges for an array of reasons including damaged items, returned goods, duplicate charge etc. Once the dispute is submitted, cardmembers will be notified via the app that Citi is taking action, the status of the case and what to expect next.
"In a world that is increasingly digital by default, we are intently focused on servicing our cardmembers where they want and when they want," says Alice Milligan, Chief Customer and Digital Experience Officer for Citi Global Cards and Consumer Services. "Citi is making great strides in transforming our servicing model and providing cardmembers the ability to perform key banking tasks in their channel of choice. With this new dispute functionality within our mobile app, we're excited to further elevate the digital experience and reimagine what mobile banking looks like."
Additional enhancements to the Citi Mobile App launching today include:
Credit Limit Increase: Cardmembers can now request additional credit on their account through the app.
Recurring Charges: Cardmembers can now view a list of recurring charges on their credit card account.
Paperless Statement Enrollment: Cardmembers can now enroll in paperless statements via the app.
Citi will also be offering the ability for cardmembers to dispute certain posted charges within the Citi Mobile App for Android later this month.
This launch follows the recent introduction of Citi Quick Lock, which is a new functionality that enables cardmembers to "lock" their account with a simple tap or click within Citi Online or the Citi Mobile App. The Citi Quick Lock feature helps ensures that no unauthorized charges are made while a card is misplaced and upon locating a misplaced card, cardmembers can simply "unlock" their account just as easily. Citi also recently introduced the ability to view or download PDF statements as well as view FICO scores for free within the Citi Mobile App.
Free Newsletter Sign-up