Arya Now Leveraged by More Than 20 Financial Institutions Worldwide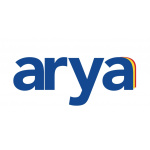 Arya Now Leveraged by More Than 20 Financial Institutions Worldwide
Arya, an intelligent, open architecture digital services platform for both retail and commercial account holders, announced that over 20 financial institutions worldwide have selected its platform to deliver a feature-rich digital banking experience to their account holders. The highly flexible platform is uniquely positioned to serve banker's banks and corporate credit unions as well.
Launched in August 2017, Arya is the industry's first fully integrated digital banking platform, combining both mobile banking and digital banking with native, built-in features including VSoft's industry-leading mobile deposit. By streamlining multiple banking channels under a single access point, Arya provides a seamless user experience while providing financial institutions a single access point to view data. Because the platform is designed to not only adapt to changing technology but also adapt to the changing business objectives of financial institutions, Arya has realized significant growth as demand for the platform increases.
Additionally, VSoft revealed new enhancements to Arya's user interface at their annual client conference to provide a more intuitive, streamlined digital banking experience. These enhancements follow several recent developments for Arya, including the platform's new live chat functionalities and biometric authentication features, which demonstrate VSoft's commitment to helping financial institutions exceed heightened account holder expectations.
"Arya's growing client-base highlights the industry's need for a platform that integrates digital banking applications and channels seamlessly without expensive deployments or disrupting account holders," said Murthy Veeraghanta, chairman and CEO of VSoft. "Our goal is to ensure our financial institution clients have the tools they need to easily scale and adapt as technology and account holder preferences evolve and VSoft's development of Arya illustrates our commitment toward that objective."
Free Newsletter Sign-up