CoInvestor Technologies selected for Tech Nation's FinTech Programme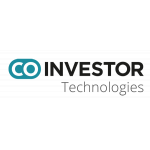 CoInvestor Technologies selected for Tech Nation's FinTech Programme
Asset Management
,
Investment Management
CoInvestor Technologies (CoInvestor), has been selected to be part of Tech Nation's inaugural Fintech programme this autumn.
The technology company digitising the management of alternative assets for advisers, fund managers and private investors was chosen following a rigorous selection process to meet Tech Nation's criteria.
CoInvestor is growing rapidly, as it enables complete digitisation of the management of alternative asset investments connecting fund managers with wealth managers and financial advisers in this historically paper-based sector. This growth reflects an ever-increasing industry willingness to adopt and embrace technology and bring greater efficiency to this asset class.
Tech Nation Fintech is a five-month growth programme. It will allow businesses to work with and learn from some of the UK's most talented Fintech entrepreneurs on key topics such as scaling challenges, partnerships with incumbents, regulations and international expansion.
The programme is a first for Tech Nation, the government-backed network for digital tech entrepreneurs, underlying its commitment to innovation in financial services.
Charles Owen, Founder of CoInvestor, said: "Being chosen to be part of Tech Nation's first-ever Fintech programme is a testament to our credentials and tireless efforts to improve and streamline processes to manage alternative assets in a secure way. We look forward to learning from some of the best in the Fintech world to help scale the business to meet the growing demand for alternative assets."
Tech Nation received nearly 100 submissions to be part of the first cohort and 20 applications offering innovation, from across the financial services sector were selected. Applications were submitted from a diverse range of locations in the UK, with 7 out of the 20 chosen firms based outside London. Accepted propositions cover a range of areas, including: payments, Open Banking, RegTechs, AI and anti-money laundering.
Eileen Burbidge, Chair of Tech Nation said: "The UK is an acknowledged world leader in Fintech but having this programme, endorsed by HM Treasury, will help the UK to further accelerate the development of the sector. The calibre of applications for the Tech Nation Fintech programme was incredibly impressive with a wide breadth of business models. The companies chosen have already demonstrated that they are winners and will certainly have many more successes to come."
Launched in 2016, CoInvestor is transforming the management of alternative assets by providing a range of digital solutions to enable the institutionalisation of alternative assets. Interest in the asset class is growing as investors seek to diversify their portfolios with tax-efficient, capital growth and yield investments.
Free Newsletter Sign-up