Getting the Ball Rolling Again! England vs Russia
PPRO
Marketing Team at PPRO
Getting the Ball Rolling Again! England vs Russia
09.06.2016 01:00 pm
Once again, the UEFA European Championship is just a round the corner, and Europe will spend four weeks going football crazy as each team takes its turn on the international pitch. A UEFA European Championship, of course, means an entire month of nothing but football - with fixed schedules featuring up to three games a day. All this naturally makes every football fan's heart beat faster, and we at PPRO can hardly wait until the first kickoff - at 9pm on the 10th of June in Paris's St. Denis stadium.
As well as the purely sporting aspect of a European Championship, however, we - as payment professionals - are also interested in a variety of other details. After all, in addition to being a major sporting event, a European Championship is a hugely significant economic event.
Pubs from Dublin to St. Petersburg and from Bucharest to Tirana will be filled to bursting point. Tourism will boom as armies of football fans flock to France to get in on the action. And then there's the multimillion merchandising business: jersys, European Championship foot­balls, flags, sweatbands, colours, noise-makers and a thousand other things. The ball may be rolling, but the proverbial money is rolling in. We, of course, are asking ourselves the following question: which payment method is everyone going to use?

In other words, which electronic payment methods will the Germans, Hungarians, Poles, Italians and the other twenty nationalities use to buy their teams' jerseys? Which payment types will they use online to pay for their fan merchandise, flights and hotels? How widespread are bank account penetration and the distribution of alternative payment types compared to credit cards in the various countries? And, as alternative payment methods are naturally linked with modern - and increasingly mobile - technologies, we also want to know: how prevalent are the internet and smartphones in the various participating nations, and how far advanced is national e-commerce compared to the gross domestic product?
Questions abound, and we've ventured beyond football in search of answers, ultimately collating our findings in this article. As we were doing research anyway, we also turned our attention to football and unearthed a wealth of astounding, entertaining and exciting facts. So don't worry: the PPRO guide to Euro 2016 also, of course, contains plenty of football lore.
With this in mind, we wish you an exciting, entertaining, thrilling and triumphant Euro 2016!
Ahead of football game between England and Russia we are sharing the interesting info graphics about e-commerce habits of the playing countries.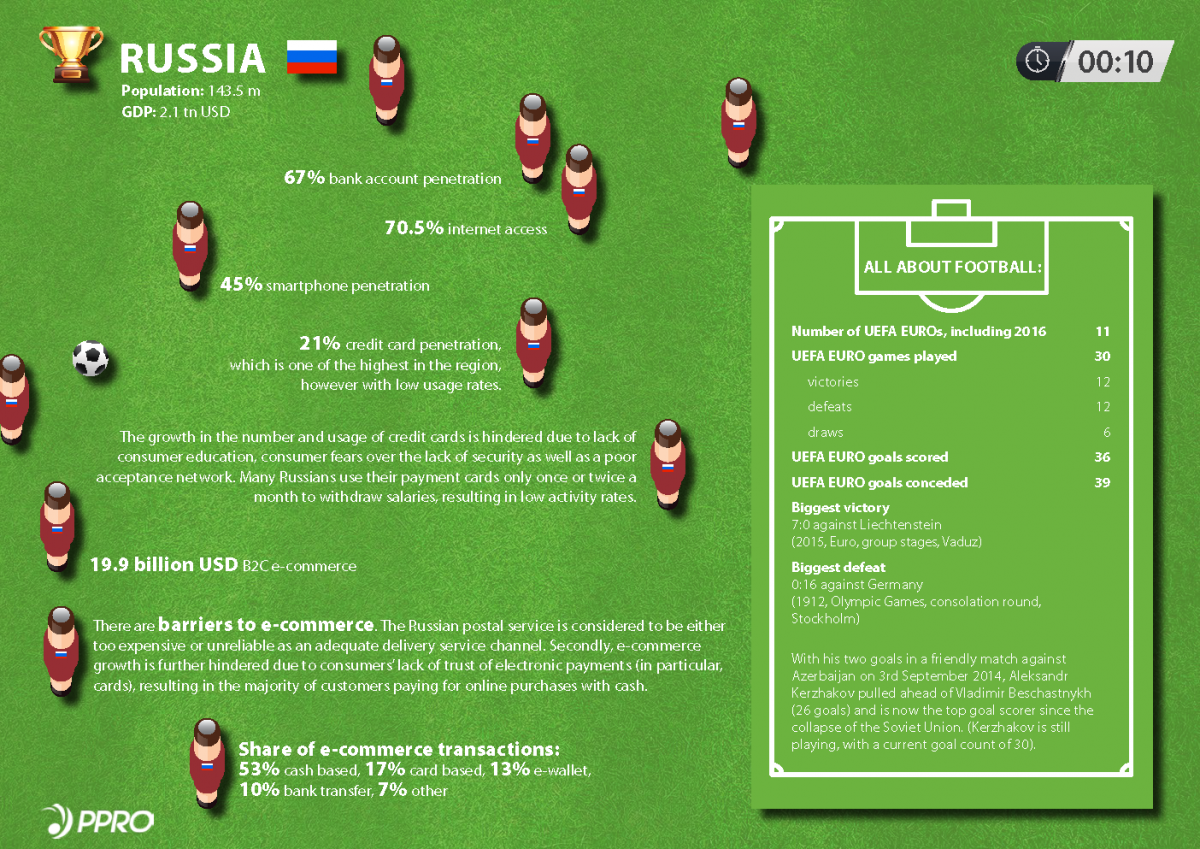 Shuvo G. Roy Mphasis
Ground control and Captain Tom When veteran Captain Tom Moore decided to walk one hundred laps of his garden before his 100th birthday to raise funds to support NHS heroes battling Covid-19 from the frontline, he never imagined that he would Read more »
Denise Dunne Ding.com
Undeniably businesses all around the world today find themselves grappling with the profound changes we are experiencing as the world comes to terms with the impact of the first wave of this pandemic.  All across the world, businesses - from the Read more »
Free Newsletter Sign-up