Creating the perfect chatbot
Kunal Patel
Council member at GLG
Creating the perfect chatbot
08.06.2018 11:15 am
The world has gone chatbot crazy, certainly there is still a lot of focus on 'virtual assistants', as some people like to refer to them as. They are essentially used to mimic human speech where a human would be required via a messaging interface. As someone who closely works within the financial services industry, automation is certainly one of the priorities in large companies, esp. within the banking world.
It's fair to say that the advent of chatbots has fuelled the drive in Artificial Intelligence (AI) as a whole in other areas. I have had conversations with a number of people across the financial services industry, there is a balance of those who are in favour of chatbots and those who are not. I came across some very good prototypes early on, they were quite basic but have evolved over time. Some organisations have already begun to or have rolled out services.
The Financial Brand have summarised a list of banking chatbots already in service – click here for more details.
Customers are the key to success
This seems an obvious thing to say I know, but the lines can be blurred if services don't meet the need of the customer. After all, why invest so much time and resource when you're not meeting or fulfilling your objective? It seems mad but believe me, it's quite common place in industry. Chatbots should be fully focused on the customer experience, this means that they should be intuitive, naturally evolve and learn to become better with its responses. Above all else there should be a clear set of customer service objectives which can be measured by the company.
Conversable have an interesting proposition, their platform makes it possible for employees to write and modify responses for their bots and push automated responses live, without needing to know how to code. The console allows a user to deliver answers quickly, easily, and correctly, to their customers.
Take a look at Conversable's chatbot building process here.
I really like the way they have broken down the process into six simple steps:
Design the conversation
Build the conversation
System integration
Learning
Expansion
Advanced AI:
The good, the bad and the ugly chatbots
There are some obvious pitfalls companies face when reacting to innovative services, a lot of it is just a lack of understanding of their objectives and implementation of the technology. I'll try and explain what I mean by those two areas because this could be the difference between success and failure.
Be clear on the objectives
Customer experience! Customer experience! Customer experience!
Don't be lead by what others are doing but think about areas where you need to improve and what pain points you are experiencing. The driver here is to think about improving efficiencies, service as a whole and how you're best positioned to deal with customer experience.
Don't look at chatbots as quick fix to your problems, so you can avoid customers and just focus on your revenues.
Holding onto customers has now become one of the biggest challenges across many industries.
Half-baked chatbot product
If you're not clear on objectives the consequence will be a half-baked product or one which is overloaded with functionality which tries to cover all bases. This will no doubt compromise the quality of the customer experience, and as we know this is the main objective. You can see how this will end I am sure, the consequences could be disastrous given the competitive nature of our current digital world.
The other direct driver is the perception of chatbots and their use based on the plethora of services which are currently out there. The more half-baked bots out there in industry only compounds people's perception. As someone who focuses on product as a day job, this annoys the hell out of me.
The current customer crop, segmented into millennials, generation Z and the up and coming generation alpha have little time for bad products. If it doesn't work first time or the experience is poor, it's quite literally toast and the recovery from that isn't worth thinking about.
It really boils down to some simple thinking and the following steps.
Be clear on your objectives, have a concise business case in place, understand the customer journey intimately and have the courage to make changes where applicable. There's no excuse not to put the customer first and focus on the customer experience, regardless of AI and machine learning technology being in place.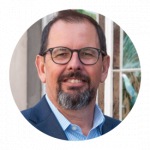 Wayne Johnson encompass corporation
Successful compliance and risk management programmes within financial institutions depend on effective Know Your Customer (KYC) processes yet most have found these processes to be increasingly onerous, both in terms of time and cost.  This is Read more »
Free Newsletter Sign-up