Customization and Flexibility are the New Standards of Profitability in Lending
Digital lending platforms are changing the face of loan management. Today more banks and non-bank lenders replace existing legacy loan software with composable, flexible, API-first, BPM-driven systems.
HES Fintech is a financial technology solution provider, offering comprehensive lending and scoring solutions to banks, credit unions, and alternative lenders. The company offers mature, modular and white-lable software — HES Lending Platform, which can be customized to meet any organization's requirements.
The company was founded in 2012 and is trusted by 115+ financial institutions in over 25 countries worldwide. The global head office is located in Vilnius, Lithuania.
Fully Managed Solutions for Lending
HES Lending Platform provides the technology fundamental to power the loan lifecycle – from origination, risk assessment and servicing to collections and pipeline performance tracking.
The key distinction of HES software is unparalleled flexibility and the speed at which the system can be implemented — less than in 10 weeks. The solution consists of 20+ prebuilt modules that can be used independently or collectively (as an end-to-end platform).
The Platform for Online and Offline Lending
The HES team has profound expertise in various aspects of lending. HES Lending Platform is a solid alternative to legacy loan software and in-house development efforts and can suit:
SME and commercial lenders (invoice factoring, merchant cash advance, working capital, supply chain financing, equipment leasing, etc)

Consumer lending companies (unsecured loans, group loans, mortgages, etc)

P2P lending marketplaces

POS financing providers (including online POS loans)

Microfinance and payday lenders

Traditional and digital-only banks
HES Solution Overview
HES Lending Platform is a powerful, customizable system on which you can build your unique lending solution.The software contains essential functionality, third-party party integrations and workflows that can be tailored to the specific needs of your business and legal environment.
The platform is built on HES Core™ architecture and can be implemented through customizing existing modules according to individual client needs.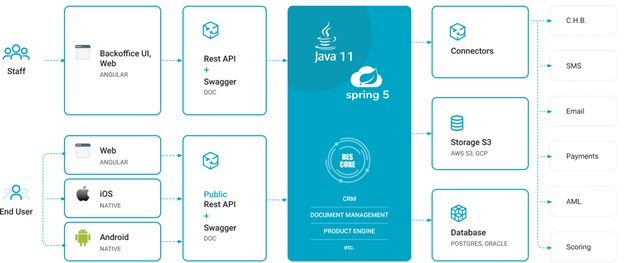 HES Core™ is made of a collection of 20+ pre-built modules, including on-boarding; a data collection & application management component; KYC, underwriting, credit scoring; calculations and product engine; loan disbursement, management and repayment; collateral; document management; email/sms notifications; statistics and reporting.
The platform covers the full loan lifecycle, including:
AI-powered credit scoring and decision making

Loan management automation

Loan servicing automation

Collection automation
The platform is built on reliable open source technologies and can be maintained, developed and upgraded by your in-house development team.
Solution Overview
Our key advantage is having an evolving specialized platform in place to create custom loan processing solutions. It can accommodate the budget and growth plans of small fintech startups and big banks alike.
Flexibility and scalability
No two banks or lending systems are configured the same way. Depending on the type of business, its logic, location, and legal environment, the following processes always require fine-tuning: workflow automation, decision-making, calculations, documentation management, notifications, reporting, integration with 3rd parties: scoring, payment and collateral providers.
HES Lending Platform provides lenders with the ability to easily customize the solution according to specific business needs. The solution bridges custom development and proprietary out-of-the-box software and can be customized front-to-back. Implement your unique features into the platform and outperform your competitors with your know-how, speed of innovation & flexibility.
AI-Powered Credit Scoring
Assessing borrowers is always a challenge even in the best of circumstances. HES is ready to implement any of your bold ideas. You can build your own decision tree and automate each and every step in it. You can configure your own credit rules and policies, set cut off rates, create blacklists, AML verification, KYC and score your clients however you see fit.
If you're not sure how to customize your solution, you can rely on us to build your processes or use our AI based solution GiniMachine for credit scoring.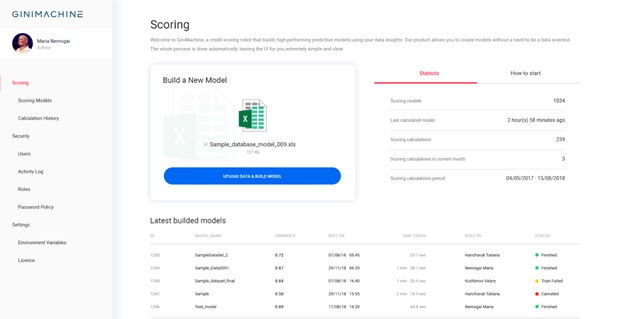 Start Fast
Get to market with a minimum viable product in a maximum of 10 weeks, offering sustained process improvement and operating cost reduction from day one. You can purchase the source code and truly own your own lending solution, host it anywhere and further develop and enhance it as you see fit. There is no vendor lock-in, you control everything.
Security Assurance
The technology stack components are regularly updated to maintain the most current and most secure versions. The technology stack components are regularly updated to maintain the most current and secure versions through an intelligent risk management framework.We have security measures throughout the SDLC and we're GDPR and PSD2 compliant.
Key benefits of HES Software for Lenders
Leveraging time-proven fintech practices, HES lending software can help you:
reduce operational costs by up to 60%

automate the decision-making process with AI and machine learning

reduce time to 'yes' from 24h to 2h

expand to new markets in <90 days
Request your free personal live demo and our expert will contact you shortly to discuss how HES Fintech's software can help you meet your unique business requirements.